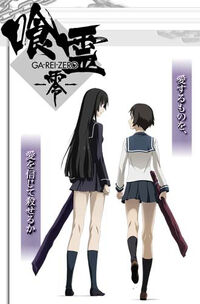 Ga-Rei: Zero (喰霊-零-) is an anime adaptation of the Ga-Rei manga series. However, it is designated as a prequel prior to the event in Ga-Rei. The anime was produced by AIC Spirits and Asread. It aired from October 5 to December 21, 2008. Funimation has a home entertainment, digital, merchandise, and mobile rights license to show the series in North America with a complete DVD series out by 2011. The opening theme is "Paradise Lost", sung by Minori Chihara. While the ending theme is "Yume no Ashioto ga Kikoeru", sung by Kaoru Mizuhara (Yomi Isayama's voice actress). The anime reveals about the background of the two main characters Kagura and Yomi. The anime has a memorable tagline shown during the opening theme sequence, which is "Will you kill someone you love because of love?".
Appearance in Other Media
Edit
Several characters from the Ga-Rei: Zero anime appear in the first episode of Tokyo ESP. Additionally, Kagura and Yomi also appear as cameos. This mislead people to think that Ga-Rei and Tokyo ESP share the same universe. In fact, it is considered as a tribute to Hajime Segawa's previous series.