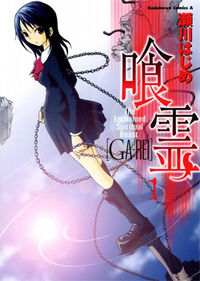 Ga-Rei (喰霊), also known as The Enchained Spiritual Beast Ga-Rei in English, is a Japanese manga series written and drawn by Hajime Segawa. It has been serialized by Kadokawa Shoten in the magazine Monthly Shōnen Ace. The English version was then released digitally on BookWalker on October 29, 2014. The series ends in 2010 with 52 chapters collected in twelve tankōbon volumes.
Ad blocker interference detected!
Wikia is a free-to-use site that makes money from advertising. We have a modified experience for viewers using ad blockers

Wikia is not accessible if you've made further modifications. Remove the custom ad blocker rule(s) and the page will load as expected.